""Help enough other people become successful and you will have all the success you desire in your life!""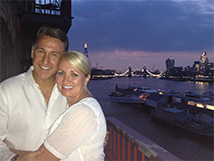 Thank you Market America! Sometimes we have to pinch ourselves to determine if this is really a dream. Imagine how your life would be if you had the time and the money to do the things that you have always really wanted to do.
A short time ago, we could have never imagined how wonderful life could really be. Many people wake up every day thinking that they do not have choices in their life and never imagine that there could be a better way. The choices that we have made over the last 11 years have allowed us to live a life that most people would only dream of. This business is really about creating a lifestyle. We wake up every day and design our life and our future. We have the ability to schedule the important things first — time with each other, our family and our friends. We have six children ranging in age from 11 to 20. Our business allows us the time to enjoy every moment we have with them. We live on a lake in our dream home and spend the summers with our children wakeboarding, waterskiing and just enjoying our time together.
The Market America business opportunity allowed Lisa to retire from a 15-year nursing career after just one year of building her Market America business part time. Jim was able to walk away from a 12-year career and a high-paying corporate position after six months of building his business part time. This is a business that teaches you to work smart instead of just working hard. Now, we would never do anything that did not provide us with leverage and ongoing income. In fact, we find it hard to understand why anyone trades their time for money instead of building their Independent UnFranchise® Business.
Now that we have the time we always wanted—we enjoy going out to breakfast, taking vacations, attending our children's sporting events and spending time together. This business has given us so much. One of the things that we really love is to give back—now helping others achieve their dreams.
We wake up every day thankful for what we have and excited about our future! Time is valuable — don't waste another minute. We look forward to your success!
Jim & Lisa Winkler
Executive Field Vice President
Currently doing business in: the United States of America.